Walking around London is a way better way to experience the city than on the Tube. You won't see anything underground! The best you can do is a walking tour of all the cars. Your sightseeing will be limited to ads for the latest West End musical or stage smash. 
No, much better to take a walking tour or two. Or ten. There are literally hundreds of walking tours in London. There are so many, that this article can't even cover half of them. There's not enough room on the internet. If you did one a day, you would probably have to move to London for a year to walk them all.
Walking tours through London can take you back in time and show you the best the present has to offer. You can bask in the atmosphere of the city while learning history and soaking in all the sights and sounds of over two thousand years of existence. Many of the tours have guides who will fling fun facts at you for the duration of the stroll.
Basically, you can go swinging around London or walking around London. Any of these swingin' London walking tours will have you doing both. There's something for everybody, their mother and their mother's horse. For easy selection, they have been split into twelve exciting categories!
Best London Walking Tours: Browse By Category
Walking tours can be a lot of fun. But not if you have to lug around a bunch of luggage. Are you in London for the day and want to experience some of the city but feel chained to your suitcase?
London walking tours are scattered all over the city. Below you'll find them separated into categories and presented in alphabetical order.
Stasher has multiple convenient locations throughout London where you can leave your luggage for short-term periods to enjoy worry-free walking. Because who wants to walk around with all that luggage? A perfect solution to the day trip dilemma. 
London Food Tours
You're gonna need a lot of energy for all that walking so why not a foodie tour first? Admittedly, Brits aren't known for their great cuisine, but London is a cosmopolitan, international metropolis so you'll find no shortage of delicious discoveries on one of the multiple foodie walking tours.
The best part of these tours is you can burn off calories as you consume them!
British Food Tour
The polite thing to do is to start with the British Food Tour. Brits are known for their courtesy, after all. And when in London…(which used to be Rome, but we'll get to that later.)
The British Food Tour spans roughly half a day and includes not just snacks but sights too. You can pair Buckingham Palace with some bangers and mash or the Thames River with some Fish and Chips. A great way to get a taste of the British both literally and figuratively. The tour winds down at the fabled Borough Market.
If you're looking for something a little more scaled down, focus your sights on a single neighborhood, like the famous East End. The East End Food tour includes ten stops and will steer you away from tourist traps and into the most diverse culinary zone in London. An informative guide is the final icing on this very authentic piece of British cake.
Secret Food Tour
Short on time? Need a quick lunch between trains? Now that you've tried all the well-known staples of a British diet, discover its secrets on the Secret Food Tour, which lasts three hours. This is the most obvious choice for die-hard foodies. Focused on the London Bridge area and Borough market, this tour even offers personalized recommendations. It includes a pub stop and finishes with dessert! Yummy!
Didn't know London could be so cheesy? Find out just how cheesy it is on the Cheese walking tour. There's a cheese quiz plus you'll visit the same place where Winston Churchill bought his cheese! Yes, war heroes eat cheese too. Get yourself a slice of that cheddar!
Now that your tummy is about to burst, let's walk it off alphabetically.
Art Lover Walking Tours
Free Tours By Foot offers a pair of funky street art tours. The first is the Brixton Street Art Tour, which includes murals and even a portrait of David Bowie. While exploring London's version of Harlem, you'll learn about immigration and afro caribbean culture and visit Electric Avenue and a skate park.
The graffiti street art tour is packed with off the wall art from all around London's famed East End, including the trendy Shoreditch neighborhood. It includes hidden gems you might never discover on your own. Don't be surprised to stumble upon a Banksy!
Guildhall Art Gallery
If street art isn't your thing, try the Guildhall Art Gallery Tour. The Guildhall is a structure that dates back to the 1400s and houses paintings from as far back as the 1600s and up through today's modern masterpieces. Below you'll see the ancient Roman amphitheater, which is significantly older than the structure or any of the paintings.
Another option is to just wander Shoreditch on a self-guided tour through streets like Bateman's Row, Brick Street and Charlotte Road. Here you will discover what street art enthusiasts say is the highest concentration of techniques, variety and beauty. New pieces pop up all the time and there's even a possibility you could catch a Shepard Fairey piece.
Combined Walking Tours
If you want to cover a lot of ground in a little time, try a combined tour.
Free Tours By Foot Marathon Tour
Free Tours By Foot offers a simply grand six-hour marathon tour. It covers all the landmarks you've heard of, like Big Ben, London Tower, Westminster Abbey, Buckingham Palace and the River Thames.
And some you may not have heard of, like St. Paul's Cathedral, The Churchill War Rooms and Trafalgar Square. Did you imagine that you can cover most of London by foot in six hours? The tour begins at the Green Park Underground Station.
The tour even includes a lunch break and sampling of London treats along the way. Sounds smashing!
Dark Walking Tours
Having been around so long, London has seen its share of macabre history, from plagues and pestilence to Jack The Ripper.
There is a wide selection of creepy and fascinating walking tours that will take you through a walk on the wild side of London's past.
The Blood And Tears Walk has a little bit of both. This grisly tour leads you through execution sites and along the path of some of London's most famous madmen, covering all kinds of ghastliness from witchcraft to grave robbing. You will be shocked, scared and highly entertained.
Of course, London's most famous madman is probably Jack The Ripper. Over a century later, his identity has never been confirmed. But his path of terror is well-documented. Free Tours By Foot offers one of the first and what is considered to be the best Jack The Ripper tour in London. You'll be looking over your shoulder for long after this tour has concluded.
The Jack The Ripper tour is also offered en Espanol by Free Tours.
The Plagues and Pestilence walking tour is a self-guided tour that will teach you all about one of the darkest times in human history, leading you to plague pits and hospitals frequented by body snatchers, as well as places where surgical instruments were made.
If you believe in the paranormal – or want to believe – and enjoy boats, try the Ghost, Ghouls and Gallows tour. This one takes place at night, appropriately. The guide recounts legends of known hauntings and suspected ones. It ends with a memorable boat cruise along the Thames. The tour begins at a particularly haunting landmark – the Statue of Goddess Diana.
If that's not enough spookiness for you, embark on the London Ghost Walk. Terrible tales of unsolved crimes and murders await you on this tour as you twist and turn down London's darkest alleys.
Finally, there's the London Dark Side Tour. That's not a reference to the Pink Floyd record – this isn't the moon! The most bizarre stories of London are showcased on this walk, and stops include the body-snatching cemetery, the Temple Of The Occult, the execution chair, and the site of a tragic incident from 1867.
Famous People Tours
London has been a base for and inspired many legendary artists throughout the centuries, from the Beatles to Charles Dickens to William Shakespeare. You can follow in their footsteps on one of these walking tours!
Beatles Tour
The Beatles Tour is self-guided. Using GPS, you can map out a route that will help you capture some of the magic of yesteryear. Start at Abbey Road Studios and bring some friends so you can recreate the iconic photo from the Beatles album cover.
The Beatles aren't the only legends who have graced the halls of Abbey Road Studios. The list also includes Shirley Bassy, Pink Floyd and Aretha Franklin all the way up to Lady Gaga! Who knows what famous artist you might catch a glimpse of coming or going. Wind up your tour at the London Palladium theater, where the term "Beatlemania" was first coined!
Dickens Tour
For a tale of one city, you can take a professionally guided or self-guided Dickens tour. You can visit the Charles Dickens museum, housed in his former residence where he wrote Oliver Twist, and drink in the same pubs where he drank! Maps are available for the self-guided tour at the City Information Centre. It is sure to be the best of times!
Shakespeare Tour
The Shakespeare tour is also self-guided. You can still check out The Rose Theatre, where some of his classics were first staged. From there you can go to some of the same churches he did and wind up at The Globe Theatre, which has been presenting Shakespeare plays for nearly five hundred years and where you can experience the performances the same way they did in his era.
Historical Tours
With two centuries of ground to cover, walking through all of London's storied past can seem quite daunting. These tours will help you narrow down your options.
The Great Fire Of London was one of the biggest tragedies in the history not just of the city, but of the world. The Great Fire of London happened in 1666. Notice the 666 in there, the year the fires of hell emblazoned to the surface. Coincidence? maybe…
On this tour, you'll learn how the fire started and then trace the journey of its unbridled demolishing force, along the way demonstrating how London managed to reinvent itself following this massive disaster.
If you don't want to limit yourself to one historic event, why not go in the complete opposite extreme direction and embark on a journey through the '10 Centuries In One Day" walking tour? This one is great for the whole family, featuring ten stops that includes the London Tower and a church that survived the great fire and concluding with a grand finale at the Museum of London. This tour makes learning fun!
Finally, go back even further than just one millennium. Did you know that Rome used to rule London. Find out all about it on the Roman London Tour. Back then, it was known by its Latin moniker, Londinium. This tour will lead you around to all the landmark relics of this long bygone era. Carpe Diem!
Landmark Walking Tours
Two millenniums can leave a lot of landmarks in their wake. That's why this category is the most jam packed with options. Where to start?
How about Royal Westminster? This one will take you through at least one millennium. Free Tours By Foot offers a walking tour that shows you around this small neighborhood that is home to some of the most mighty British monuments, like Big Ben and Buckingham Palace. You'll even get to witness the famous changing of the guard. This is a tour you can set your watch by!
It's tea time! Real British tradition is on display at Kensington Palace. This two-hour tour through the gardens includes a gander at the Princess Diana memorial statue and ends with high tea in the Palace Pavilion.
There was more to Churchill than just cheese. The Churchill walking tour illustrates his life with visits to the legendary 10 Downing Street and the Churchill War Rooms, the bunker that saved his life during the London Blitz.
Are you excited about the coronation of Prince Charles? Learn how a man becomes a king on the Royal Coronation Walking Tour, which explores the history and process behind one of the most honored ceremonies.
The City Visitor Trail takes you through typical major landmarks but also off the beaten path. The point of this walking tour is to get sidetracked. Pounding the back streets will reveal hidden gems and a more in-depth look at London.
The Mansion House Walking Tour takes you for a stroll inside the official home of the Mayor of London. The mansion was built in the seventeen hundreds. Majestic rooms designed in the 18th Century mingle with a remarkable art collection.
Don't have a lot of time? Dash over to the London In Under Two Hours walking tour hosted by Free Tour. Why is it under two hours? Because the organizers believe a tour should only be as long as the average bladder can last.
This tour operates on the principles of only including the most exciting stops and making the stories even more thrilling than the sights themselves. Best part? It's free! And leaves you the rest of the day for a foodie tour.
The Museum of London offers a number of walking tours. Their program features some unusual and unique themes.
The Gin Walking Tour
One of the walking tours the Museum Of London offers include The Gin Tour, which explores the 18th century gin craze in London. Another is the "London during World War Two" walking tour which focuses on how the lives of the citizens of London were affected by the events of the Second World War.
Smithfield Market Walking Tour
The museum also offers more traditional walking tours like a Roman London Family Walk and Great Fire Of London Family Walk. One more interesting walking tour the museum hosts is the Around Smithfield Market walking tour, which wanders through an area steeped in Medieval history.
Movie Lovers Tours
London is iconic and photogenic and of course, has been the location for many, many classic and beloved films. Not just the set, but also the inspiration for the stories and characters from the films. 
Harry Potter Walking Tour
By far the most popular is the Harry Potter Walking Tour. There are multiple variations on the Potter tour to choose from, which include the Warner Bros studio where much of it was filmed.
Another Potter themed tour takes you to the places that inspired the author J.K. Rowling to create the characters and settings of the magical series. Free Tours even offers a free Harry Potter tour En Espanol!
Gangster London Tour
The next entry is not really a movie tour, it's a tour of gangster locales, but it is hosted by an actor. The tour is led by the actor Vas Blackwood of Guy Ritchie's gangster classic "Lock, Stock and Two Smoking Barrels.' And who doesn't love a gangster movie? Included on the tour are filming locations from 'Lock Stock" so technically it's still in the right category.
Sherlock Holmes Walking Tours
A character who is arguably more famous and beloved than Harry Potter is the one and only – can you guess, Watson? Why, it's elementary, my dear – Sherlock Holmes. The Sherlock Holmes walking tours visit locations from both the movies and the books and of course, wouldn't be complete without a stop on Baker Street.
Downton Abbey Walking Tour
The Downton Abbey Walking Tour in London offers fans of the beloved period drama an immersive experience into the world of the Crawley family and their entourage. This guided tour takes visitors on a journey through the city's historic streets and landmarks that featured prominently in the series, providing fascinating insights into the show's production and the era it depicts.
Along the way, guests are treated to anecdotes and little-known facts about the characters and the real-life inspirations behind them. The tour culminates at Highclere Castle, the primary filming location for Downton Abbey, where guests can marvel at the grandeur of the estate and explore the stunning grounds that served as a backdrop for many unforgettable scenes.
London Film Locations Walking Tour
It's not just huge brands and franchise characters that populate London film history. Of course there's Notting Hill, but the London Film Locations walking tour also includes locations from modern classics like Batman Begins, Wonder Woman, and A Night At The Museum.
Nature Lovers Trails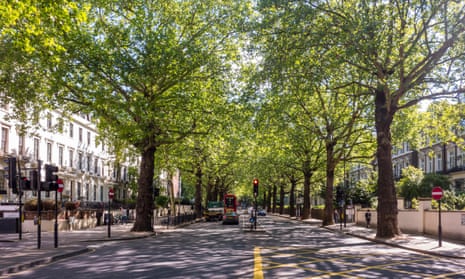 There's plenty of nature walks for the outdoorsy types who are already used to hiking.
The Tree Trail
Try The Tree Trail. Boy, that's a tongue twister. The tree trail winds along the Thames River as you explore the close to 2500 different individual trees living in London, comprising nearly seventy different species. The trail is a celebration of the power it takes to thrive in harsh urban conditions.
Walk The River Tour
The Thames River is certainly one of the world's wonders. The Thames is the reason the Romans settled in Londinium. You can admire the Thames in all its glory on the Walk The River Tour. Fun Facts galore await you on this walk!
Illuminated River Walk
Another one of a kind way to admire the Thames is by night on the Illuminated River Walk. This is a tour of nine bridges, spread over night, which have been illuminated by the artist Leo Villareal, in cahoots with architectural firm Lifschutz Davidson Sandilands. Leo is American, so he had to cross an ocean to light up a river.
Night Photography Tour
Another nocturnal delight is the Night Photography tour. Join a walking tour group of enthusiasts who will help you unleash your creativity and get some truly insta-ready photos.
London Neighborhood Tours
One fun way to spend a short day is to just pick one little pocket and get to know its nooks and crannies.
Greenwich Tour
You can take a half-day Greenwich tour and get a micro-sampling of all the things other tours have to offer. For example, you can see where a fight that was in the Marvel movie "Thor: The Dark World" was filmed. The tour also includes landmarks of the neighborhood like The Royal Observatory and Greenwich Market.
Soho Walking Tour
Soho is a fun and trendy neighborhood and you won't be let down by a walking tour of it. Soho is the counterculture epicenter of London and it's not just all cocktails and high fashionistas. On a Soho walking tour you can learn about the early history of the neighborhood and how it evolved into all it is today.
Walking Tour of Camden Town
Free Tours offers a walking tour of Camden Town, another notable London hood. The home of misfits from Charles Dickens to Amy Winehouse, Camden Town has rebuilt itself time and again. On this tour, your guide will tell you all about the most famous and infamous characters of the past and present in Camden Town.
Quirky London Tours
Want a weird or wacky walk? Something really off the proverbial beaten path? Try one of these unusual walking tours.
Unseen Tour
The Unseen tour addresses homelessness in London and is organized by social justice enterprise The Sock Mob. The guides themselves have all lived through homelessness at some point in their lives, lending this tour a unique authenticity.
Secret London Walking Tour
The Secret London walking tour takes you to unsung oddities like a place that was once known as the world's smallest police station. This immersive experience, transports participants through a labyrinth of narrow alleys, concealed courtyards, and tucked-away gardens, unveiling a side of London that remains undiscovered by most tourists.
Children's Trail
The Children's Trail is designed to be an easily accessible route for children and is hosted by Draco the Dragon. Don't worry, parents – he's not a real dragon! Three different trails feature both key landmarks and hidden gems.
Designs of the Times
Designs Of the Times is a walking tour that will lead you to a deeper appreciation of London's intricate and sometimes breathtaking architecture. It includes modern day masterpieces as well as buildings that date back over three hundred and fifty years.
Finance At Your Feet Tour
London is one of the world's banking hubs, if not the capital of banking worldwide. The Finance At Your Feet Tour explores the history of the banking, financial, insurance and shipping sectors and their impact on London.
FreeTour.com offers a tour which delves into the history of Canary Wharf and the West India Docks and demonstrates their impact on the financial sectors. Admire the skyscrapers after sipping a delicious West India Rum Cocktail and hearing some amazing stories!
Naughty Walking Tour
For a nightcap, try the Naughty London walking tour, which exposes – pun intended – all the scandals of the British Empire from the aristocracy all the way on down.
Pub Tours
What would a visit to London be without a pint of beer or twenty – if you want to drink like a local. Why walk when you can stumble?
Historic Pub Walking Tour
The Historic Pub walking tour travels from Southwark to The West End and takes you on a journey from Victorian gin houses to Elizabethan coaching inns, filling your glass with stories from London's favorite pastime.
London Pub Tour
Free Tour hosts a London Pub Tour that takes you to some of London's oldest pubs, places where poets dueled and writers misplaced their manuscripts. The tour ends with a half pint, enjoyed in possibly the exact same bar stool on which Dickens perched.
Haunted Pubs Tour
For some thrills and chills while you down a pint, try the Haunted Pubs tour. The Haunted London Pub Walk offers a unique experience, combining history, mystery, and the paranormal with the convivial atmosphere of London's historic pubs.
Self-Guided Tours
Although there are plenty of guided tours in London, you also have the option to take a self-guided tour, which has become infinitely easier in the age of GPS.
Portobello Road
Options for self-guided tours in London include Antiques Hunting along Portobello Road and Kensington Church Street. A South Bank self-guided walking tour will take you by many landmarks already mentioned in this article, but you can mosey at your own pace.
Covent Garden
Do a Covent Garden walk for shopping in a historic district. Benjamin Franklin lived there for sixteen hours. Take a self-guided walking tour through the Camden Town Markets, which is what the neighborhood is best known for these days.
Little Venice Walking Tour
Finally, one last unique self-guided tour you might enjoy is the Little Venice walking tour, a charming, best kept secret of London. You don't even have to walk. After all that walking, you might want to just hop in a gondola – which you can do among the canals of Little Venice!
Frequently Asked Questions
There are some questions you might have and this article is aiming to answer them all. Questions like:
Are the free walking tours mentioned in this article really free?
Well, yeah, depending on if you consider tipping a courtesy or a fee. It is common, of course, to tip your tour guide if you have one and if you enjoyed the tour. Some of the tours are pay what you wish, meaning you don't have to pay if you don't wish to.
How much to tip a walking tour guide?
Again, it depends. On the length of the tour. For a couple hours, five or a ten will suffice. For all day tours, twenty is more common. That's for free tours. If you pay for the tour, the standard tip is between ten and twenty percent of the cost of the tour.
How do free walking tours make money?
There are a few different models. There's the generosity of kind folks like yourself. Some guides pay the organizers per head and recoup costs from the tips. Other times they offer the tours to drive traffic to their website.
Final Tips About London Walking Tours
It is recommended to book a guided tour if you prefer smaller groups and a richer experience. The free ones tend to be crowded.
You can also opt to use a "Blue Badge" Professional Guide.
Common problems include not enough stops, being unable to hear the guide, or tours starting before all the participants have arrived. Be prepared!
We hope this article has been informative and that you will have the best of times on any or all of your London Walking Tours!